This week the Poetry Friday community is celebrating the life of Lee Bennett Hopkins at
Amy Ludwig Vanderwater's
The Poem Farm

.
I am happy to join the celebration for Lee Bennett Hopkins. Lee has been our poetry champion, a grand anthologist, and talented poet throughout the years and will remain so in years to come.
I offer my humble septercet poem written for a poet extraordinaire who entered my life years ago when I was a young teacher.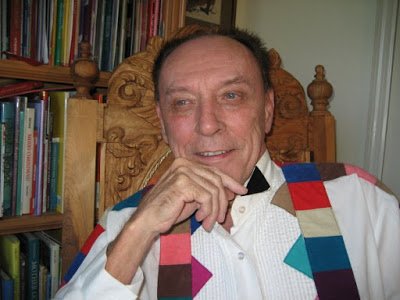 poet extraordinaire
anthology creator
grower of poem gardens
you filled many children's minds
with imaginative thoughts,
leaving your heart-print on lives
we honor your legacy
as a beloved writer
who made space for poetry
©
CVarsalona, 2019
*****
Last year, Robyn Hood Black held a Poetry Friday celebration for Lee's birthday at her blog site. I created an invitation to the party and the short poem below.
To Lee,
You have been the consummate poetry champion.
↓
poetry passer
pens crafted thoughts on pages-
master word packer
©
CVarsalona, 2018
******
Jone MacCulloch suggested finding a line from one of Lee Bennett Hopkins' poems and writing a new poem based on the line chosen. I am using Lee's opening line from a poem in his anthology, I Am the Book, and answering my question, "How should we promote the back-to-school hashtag, #StartStrong, for elementary school children?"
It's poem o'clock
school starts strong-
sing-song
up-down
verb-noun
poems belong!
Ready to rock
to the beat-
read-write
ring-sing
song-ding
Poetry's our treat!
©CV, 2019
******
When should we highlight poetry in the curriculum? As Lee said in
I Am the Book:
It's poem o'clock.
Time for a rhyme -
tick-tock
ding-dong
bing-bong
or chime.
Poems are
wistful
wish-filled
sublime-
Come.
Unlock a minute
for
poetry time.
This afternoon, I added my #ditty #poemsong for

Michelle H. Barnes' August Ditty of the Month

. It was written for my granddaughter and is about waking up in the morning. You can read my poem below but please check out the ditty video I created here.