Off they went to a winter wonderland vacation. Beautiful, sun-kissed Jackson Hole, Wyoming, was waiting for them. Skis were packed-even the tiniest skis only meant for a twenty-one-year-old toddler.
I fell in love with the original photo of this winter scene so I digitized it and added a title.

I marvelled at the wonder of nature, the pristine beauty of fresh snow, a sharp contrast to dirty snow or rain-washed snow slush. Even if you are not a fan of winter, you might be inclined to change your mind when viewing these vacation photos.
The spectacular mountain views were welcoming
in each scene.
It was as if Mother Nature painted a landscape in brilliant white with a blue backdrop.
Each photo made winter so inviting.
Thinking about my grandbaby in Jackson Hole led me to explore snow-themed poetry for writing models. When I found the following poem, A Child's Guide to Etiquette, by Chris Forhan (from No. 177, Summer 2006), I knew it was a just right one. You may agree.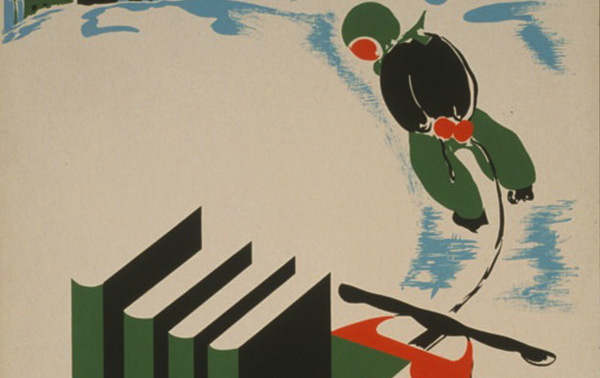 Detail of Works Progress Administration's: "January: A Year of Good Reading" Poster

Snow is a hat worn by mountains, the tallest of which do not remove the hat in summer.
Sunlight settles like a shawl upon the hills and dewy berry fields.
The sun is not a wag or hail-fellow-well-met. It does not loaf or shirk.
It keeps it's face funeral-ready, as you should.
Away you go in the car. Father and Mother. Puff and Baby Sally.
Away you go into the Country. Spot and Jane.
Will I use this poem as a mentor poem? Perhaps, I will write a poem for my grandbaby, but for now I think I will just keep looking at the beauty of the western mountains set in winter sunshine and dream.

Day 18 of 31 days of writing
March Slice of Life Story Challenge